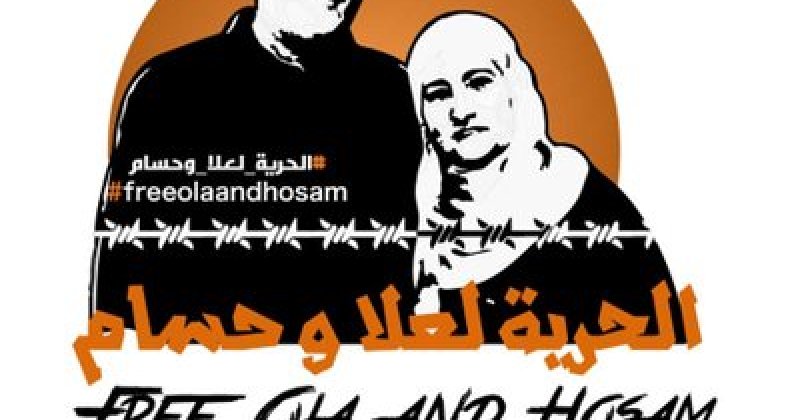 Aayah Hossam is an American Egyptian woman, who wrote a letter published in Newsweek titled "Mike Pence free my family imprisoned in Egypt", to Mike Pence ahead of his trip to the Middle East and Israel.
Aayah's parents Ola and Hossam have been detained for 6 months, and have been placed in solitary confinement, leaving them with no access to family, lawyers or the outside world.
Aayah and her brother are both US Citizens, both her parents are alumnae of the University of Texas and green card holders, she explains that she thought this would be enough cause for the American government to intervene. Prior to the Newsweek piece, Aayah sent a letter to the Vice President with signatures from 71 members of congress, calling for the release of citizens and green card holders detained in Egypt for political reasons.
She hoped the letter would Appeal to Mike Pence's emotion and humanize the story of her parents' unjust and harsh imprisonment.
Ola and Hossam- who were living in Egypt but getting ready to move to the United States- were detained in the middle of the night with no arrest warrant by security forces while vacationing with family. They were put in a mass trial with no conviction and their detention charges are renewed every 45 days with no chance of conducting the matter with the correct legal procedures.
To hear more on the Hossam family, their "political" history and her suspicions on the real reasons for their imprisonment listen to the full interview below.
The next guest was Yvonne Maffei, the Puerto Rican Italian founder of My Halal Kitchen who has written two books and created a website dedicated to helping home cooks make any type of cuisine Halal. Maffei offers substitutes allowing you to cook recipes from any place in the world, such as her favorite, Italian, replacing ingredients with healthy and delicious Halal alternatives.
Her second book My Halal kitchen tackled reproducing French, Italian, Latin and many more International cuisines, claiming she did not want to compromise flavor for convenience and spent time finding the right ingredients - her youth as a non-Muslim found her tasting many of the ingredients she would later be substituting.
Halal, is translated as permissible, in Islam this means no pork or wine and that meats coming from animals must be treated and slaughtered in a specific method. This is in line with current food trends such as conscious and healthy eating.
Halal considers the process of how the meat reaches your table, this starts at the farm, there should be no abuse of the animal; they should be fed a proper diet, treated ethically. In addition it outlines the condition of the workers, giving the animal water before the sacrifice and not being slaughtered in front of other animals.
To hear more on Maffei's choice of cooking international dishes and representing the spectrum of cuisines Muslims of different heritages eat and how Islam, the veil and eating Halal came into her life, listen below.
Omar Bashir's song "To My Mother" plays. Bashir is an Iraqi Hungarian musician, his father Munir Bashir is an important figure in Arab music history, and they performed together before his death in 1997. Omar Bashir mixes jazz and traditional instruments, predominately Oud.