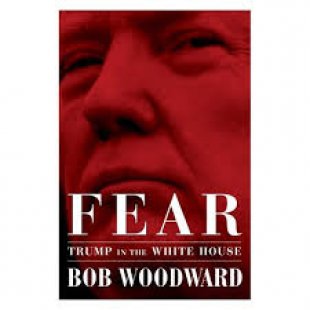 Let me get this out of the way first - Bob Woodward is a very good writer and clearly an excellent investigative journalist. That being understood, there is nothing in Fear that warrants reading it. Perhaps this is a sign of the times. It's a reality of our lives - with this 24 hour news cycle and constant social media access to many of the main players in this saga - that it's next to impossible to be shocked by anything. Sure, there are entertaining tidbits here and there, but please tell me one revelation in this book that we haven't heard time and again. On the one hand, having someone of Woodward's reputation writing these things does in some ways lend credence to many of the outlandish stories we've been hearing the past couple of years. Is that enough, though? That's up to the individual reader, but for me reading this book felt like reliving stories that I had already been told numerous times.
I also became more and more uncomfortable with Woodward's use of quotations in some instances. For example, there's a moment mid-way through Fear in which President Trump calls Lindsey Graham in the middle of the night for a heart to heart. It's difficult to believe that either Graham or Trump relayed this story to Woodward, so the idea that he is surmising what was said is problematic for me in terms of the book's overall effect. I get that it's a narrative choice, and one that Woodward hardly invented, but because of the nature of this book and because of the subject matter and allegations of fake news, this method may blur the lines just a bit too much.
Overall, this is a mostly shallow exercise that doesn't really offer anything new or groundbreaking nor does it change the narrative of where this country finds itself in the here and now.