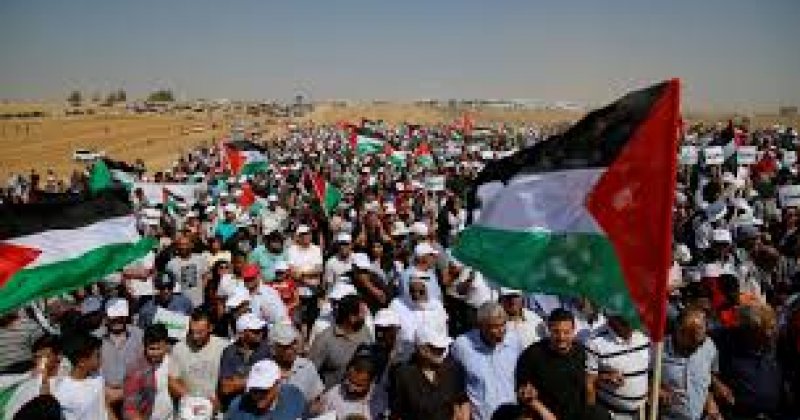 In this show we examined the media coverage of Gaza, the language and politics that shape the global narrative on the decades-long Palestinian-Israeli conflict.
Samar spoke to Greg Shupak, teacher and author of The Wrong Story: Palestine, Israel, and the Media.
Since the 2007 blockade enforced by Egypt and Israel, Gaza has turned into essentially an open air prison where more than 2 million people live under siege, brutal military occupation and with limited access to the most basic of needs such as water, electricity and medical care.
On March 30th peaceful protests by Palestinians began calling for their Right of Return. On April 6th Palestinian video and photojournalist, Yaser Murtaja, despite wearing bulletproof vest clearly marked Press, was shot down by an Israeli sniper.
Greg and Samar examine a tweet made by Associated Press, which was later removed:
"Popular Palestinian journalist died after covering the clashes on the border"
The issue with the headline, shares Greg, is that it removes all responsibility from the Israeli side, and makes the conflict seem like a fair battle. This lack of accountability seems almost like a cover up, which Samar and Greg both thought was alarming and ironic since this puts no value on the efforts of the press- AP's own journalists are not protected.
For the brutal military occupation of a people who have been seized, using the terminology clashed is not representative of the brutality and disproportional use of force by Israel.
The wire border where the protests are taking place is actually on Palestinian land, in Gaza. The peaceful protests took place at least 200-300 meters away. Even if it was the case that protester were tearing down the fence it should not be met by any action by Israeli forces.
Below is a New York Times headline from April 6th 2018
'Sporadic rifle fire from the Israeli side of the Gaza border made clear Palestinian protest could illicit sort of response that killed 20 people a week ago'
The muddled 30-word long headline still misses out key information, says Greg, which is that Israeli forces killed 20 Palestinians. The phrasing of the headline is also problematic 'Palestinians elicit a response' essentially puts the Palestinians to blame for Israel's use of deadly force, that then in effect were asking for it. In reality there is no evidence to support that claim.
Protesting right to return, which is part of international law, 60 year of occupation and over 70 years of colonization and displacement; burning tires and throwing stones, does not warrant shooting protestors dead. These headlines down play sanitize the violent actions and brutality enforced by the Israeli state on. Samar asks, if the information were just relayed in a clear way, what would happen? At most, some people would write angry letters to the editor.
And so why the overprotectiveness? It's embedded in the culture of the American ruling class, for whom Israel is an important factor of, they cannot even conceive of pointing out how illegitimate Israeli actions are. Mainstream media is its own big business it is united with the ruling American class and could be an Israeli proxy to dominate the narrative.
To hear more on Greg's book The Wrong Story: Palestine, Israel, and the Media, available on May 10th, and the 3 myths he attempts to debunk, listen below.
They then moved on to the question of Syria, and the chemical weapons attack against them.
On April 7th, seven years into the war in Syria, the rebel-controlled town of Douma was hit with a Chemical attack, which claimed the lives of at least 70 people. This has caused global uproar, polarization and tension.
Greg and Samar discussed the role of the US in the case of Syria and the region.
The US media frames it as a moral necessity and responsibility to attack Syria, that American involvement is the essentially the heroic rescue of Syrians, but the example of Iraq is a good indicator of how much damage it does to civilian life, Raqa is an example of a Syrian city that underwent US bombing and was reduced to rubble.
Greg warns that the US has no justification to attack Syria since Syria has not attacked US. This is problematic because Syria and its allies will fight back, America will be escalating a war that has been taking place over 7 years. The right thing to do, both Samar and Greg agree, would be to accept more refugees and find diplomatic solutions, rather than bring in soldiers and bombs.
Liberal media supports bombing these politically troubled nations (Libya, Yemen, Syria, Iraq) as much as conservative and right wing media outlets such as Fox News. This confusing fact may be due to the media being one branch of the American ruling class, and these wars are very profitable to America's elite. This is seen in the form of Weapons contracts, reconstruction contracts and resource grabs, all present in the leveling and destruction of cities and countries.
Listen below to hear more from Greg and Samar on the topic of Syria and hear testimonies from Najla, a mother of two, on the brutal conditions of everyday life for Gazan's under military occupation, from practical (living life with limited hours of electricity a day) to the emotional and psychological (hearing drones, fighter jets and bombs on a daily basis) and her hopes for Palestinian generations of the present and future.
Listen to the full show Here